Kauai Paradise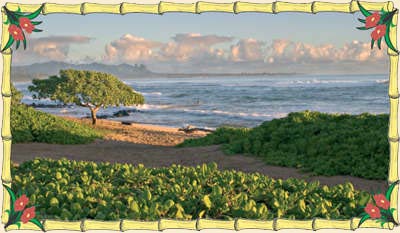 Kauai is the smallest of the four main Hawaiian Islands and has Hawaii's most intense lush green vegetation and tropical flowers. The purpose of our web site is to introduce you to places to see on Kauai, places to stay on Kauai, and some of the things that make Kauai so unique.
Kauai is a single large shield volcano that began to form Kauai some 6 million years ago with violent volcanic activity. Because it was formed first, Kauai is the oldest of all the Hawaiian Islands. Today Kauai Hawaii is home to 50,000-60,000 residents, much less than the 1.5 million people on Oahu Hawaii. Kauai is some 550 square miles in area, and is less than 100 mile around its coast by car. Kauai highest peak is Mt Waialeale which reaches over 5,000 feet above sea level. Kauai is Hawaii's most northern island and is about 90 miles away from the Island of Oahu.
The combination of Kauai being the oldest Hawaiian Island (plant life having 6 million years to develop), the large amount of rainfall on the mountains, and the tropical conditions, all explains the lush green vegetation that makes Kauai so well known as Kauai Paradise. Kauai Hawaii is world known as a beautiful island of gardens, rainbows, prestine beaches, and specatular moutains views. No matter where you are on the Island of Kauai, sparkling blue oceans and emerald green mountains can be seen. Kauai Hawaii is the home of The National Tropical Botanical and Horticultural Research Gardens.
The community leaders of Kauai try very hard to retain what makes Kauai so special; lush plant life and valleys, natural wonders, jagged mountains, a meandering Wailua River, and incredible golden sand beaches. To keep these treasures the focal point of Kauai Paradise, building must be restricted. Unlike Honolulu and Waikiki, there are no high rise Hotels, buildings or condominiums on Kauai Hawaii. There are no freeways or huge shopping malls. The rule is that there are not to be any buildings on Kauai Hawaii that are taller than the height of a coconut tree. With rules like that we can safely know that the Kauai Paradise will be here long in the future for all to enjoy.